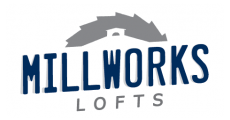 FAQs
How do I qualify?
A: Millworks Lofts participates in an affordable housing program. Applicants must meet the following income qualifications:

The household income is based on GROSS annual income (before any deductions) earned from all sources including wages, social security payments, public assistance, pensions, annuities, interest income, dividends, stocks, bonds, insurance settlements, recurring gifts from family/friends, sales of artwork, etc. Third-party verification will be required of all income, and copies of tax returns and pay stubs may be required.

Income Qualifications

Total household income must be under the following limits based on household size:

- 1 Occupant: $39,660
- 2 Occupants: $45,300
- 3
Occupants:
$50,940
- 4
Occupants:
$56,580
- 5
Occupants:
$61,140
- 6
Occupants:
$65,640
Are housing choice vouchers accepted?
A: Yes, we do accept housing choice vouchers. All applicants must meet Section 42 Low Income Housing Tax Credit income restrictions. Applicants should be aware that Section 42 Low Income Housing Tax Credit rent limits may exceed Housing Choice Voucher payment standards. Applicants would be responsible for payment of any difference in monthly rents established by the Section 42 Tax Credit Program and Housing Choice Voucher payment standards.
My income varies - how do I know how much I make?
A: Look at your last six pay stub's gross earnings and add all six up. Divide by six to figure out how much you make per pay period. Multiply by the number of pay periods per year.

- Weekly = 52
- Bi-Weekly = 26
- Semi Monthly = 24
- Monthly = 12

What other items are included in household income?
A: Total assets valued at greater than $5,000 have a very small inputted value added to household income.
​Are there occupancy limitations?
A: A maximum of 2 occupants per bedroom is permitted.

Are pets allowed?
A: Yes, Millworks Lofts Is A Pet-Friendly Community! Dogs & Cats Welcome!

- Limit of 2 pets per apartment loft
- Pet Deposit (Refundable): $100 due at time of move-in
- Pet Fee (Non-Refundable): $75 due at time of move-in
- Pet Rent: $10 per month, per pet

Some breed & other restrictions may apply. Please call for more details.
Is smoking permitted?
A: No, smoking of all types (cigarettes, e-cigarettes, cigars, etc.) is prohibited. Millworks Lofts is an entirely smoke-free community.

​Is parking available?
A: Yes, enclosed parking for compact cars is available for an additional $95 per month. Surface parking is available for an additional $30 per month. Parking is awarded through a lottery system.

​Is there additional storage on-site?
A: Yes, additional storage is available for an additional $25 per month fee.