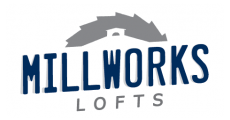 Millworks Lofts participates in an affordable housing program.
Different from Section 8, this means that residents are responsible for paying 100% of their rent amount. Total household income must be under the following limits based on household size:

- 1 Occupant: $39,660
- 2 Occupants: $45,300
- 3 Occupants: $50,940
- 4 Occupants: $56,580
- 5 Occupants: $61,140
- 6 Occupants: $65,640

Household income is based on GROSS annual income (before any deductions) earned from all sources including; wages, social security payments, public assistance, pensions, annuities, interest income, dividends, stocks, bonds, insurance settlements, recurring gifts from family/friends, lottery winnings, etc.

Third-party verification will be required of all income, and copies of tax returns and pay stubs may be required. Prospective resident incomes are verified before move-in.
NOTE:
Households comprised of all full-time students do not qualify for tax credit (affordable) housing. At least one member of the household must be a part-time student. Student status is based on the calendar year, not the move in date.